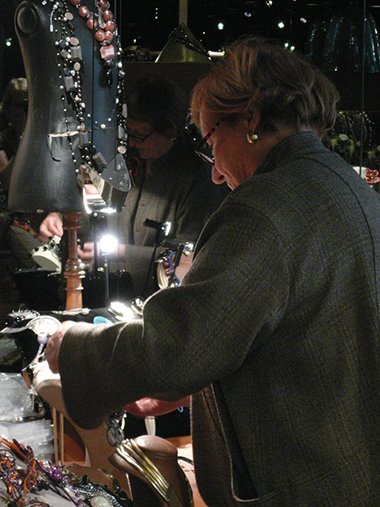 The Brand
At the beginning of the 60's, she creates not knowing it would intoxicate the streets of Saint Germain with its sets and trinkets.
Who is she? Who are they? Her? Jackie Riss, daughter of a record store owner, entered Arts Déco at 18 with a fertile imagination which is set free on her first trials of painted silks, poteries, and finally jewels.
They? Her jewels. Its enamels and all they account for in terms of her fantasy, her overflowing creativity which is learned from the french craftsmen.
After exposing her creations in the underground of a Saint Michel boulevard record store, Jackie Riss decides to launch "Fabrice" at 54 rue Bonaparte. It will therefore be her brand and her first shop located in the heart of Saint Germain.She will be the symbol of her fantastic and all-round creations.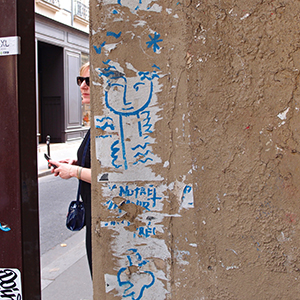 But Fabrice also has another name, Alexandra, her daughter. She knows since she was little the arcanas of her mothers' creations.
After studying graphical design, she, also, decides to embark on jewelry creation. Genetics maybe.
Since, the shop has became the meeting point of the ??germanopratin?? that regulars but also enlightened foreigners come to visit to find here the freedom made out of audacious and contemporary mixes.
Genuine jewelry box, the creativity is at the heart of the proposals and play with all contrasts.
Fabrice offers subtle associations of fine elements with other rougher ones, and is inspired by either the animal or vegetal world. Here lives another world. A metal and onyx grenade pin's originality lies next to the graphical purity of a cristal and resin dome, brass mounted, pair of earrings.
The freedom of this workshop so rare nowadays brings with it, some of the best craftsmen in France for some unique and unsusual creations. Turquoise, smoky quartz, water pearls, amethyst have all found here a soft refuge at the neck, wrist and ears of our faithfuls clients.